This is an arts and crafts blog- including traditional and not-so-traditional arts. I will post free patterns, links to cool blogs, websites and other great places to visit, so check-in often for the newest craft. Feel free to submit your own patterns or how-to tutorials on your crafty creations. I have two online shops, and will continue to spread the word on crafts!
Saturday, November 24, 2012
Friday, November 23, 2012
See the stitches from the amazing Barbara Walker Treasury of Knitting Patterns...in color- here's a link to the lace stitches that have been charted out so far:
The Walker Treasury Project
Posted by

Germasidle
at 12:07 AM
Links to this post

Thursday, November 22, 2012
I think that the
brick stitch
would make a nice hat. Or if you live somewhere warm, maybe a dishcloth... Chain multiples of 4, plus 3 for a turning chain.
Brick Stitch Pattern
Make the foundation chain, and three extra chains to turn. Row 1. Work 3 D.C. in 4th ch. from hook. * Skip 3 ch., 1 S.C., 3 ch., and 3 D.C. in the next ch. Repeat from * across row, and end 1 S.C. Row 2. Ch. 3 and turn. Work 3 D.C. in the S.C. of previous row. * 1 S.C. in the space made by ch. 3 of previous row, ch. 3, and 3 D.C. in same ch. 3 of previous row. Repeat from * across row. End with 1 S.C. Repeat Row 2 throughout.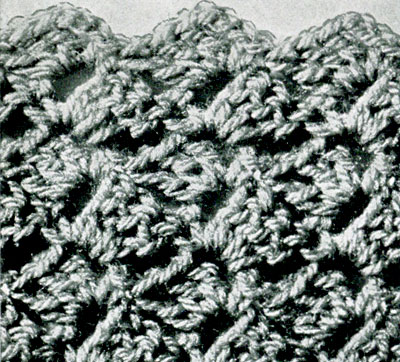 Posted by

Germasidle
at 11:48 PM
Links to this post